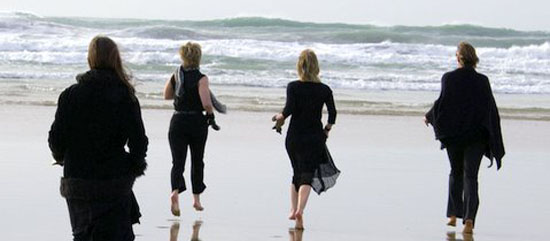 The Melegari are now established as one of the leading string quartets in the South West. Not your average quartet however, Melegari have an eclectic repertoire – effortlessly mixing classical music with modern and their own take on pop tunes ranging from Ed Sheeran, Katie Perry and Omi.
Entering their tenth year together, the ensemble comprises of four friends who have all played professionally with orchestras both in this country and abroad, including Nederlands Ballet and the Dutch Philharmonic. They play in some of the most beautiful places in Cornwall and Devon, from stately houses, grand hotels, river boats and have even managed to squeeze themselves, quite literally, into the tiny church of St. Enedoc, nestled amongst the sand dunes on the Camel Estuary.
Providing unforgettable music for all occasions, from weddings to civil partnerships, corporate functions to family celebrations, these talented musicians create an atmosphere which will never fail to enchant.
The Melegari String Quartet has Public Liability Insurance.
Once again, we are delighted this year to be playing for all your lovely Weddings, Celebration Parties, Summer Balls, Graduation Ceremonies and Corporate events ( to name but a few! ).
We have a great repertoire list, bringing fresh excitement to traditional string quartet music as well as creating insightful interpretations to modern pop songs.
If you are organising an occasion which could be enhanced with beautiful, live music, please get in touch with Charlotte. We can help you choose the right music for your special day and we will provide a professional service, always.